Adelaide Trenching and Excavation Experts
Excavation SA is a licensed landscaping and earthmoving business, providing professional trench excavation services in Adelaide and its surrounding regions, including Adelaide Hills, Fleurieu Peninsula and Murray Bridge.
We perform all forms of trench excavation for residential and commercial purposes including:
Electrical Trenching
Plumbing Trenching including sewer
Gas Line Trenching
Stormwater Trenching
Telecommunication Trenching including phone and internet
Footings including structures, fencing and retaining walls
Before the initial trench excavation work starts, we will conduct pre-excavation checks including soil/rock tests, assess hazards and assess 'Dial Before You Dig' plans and engineer reports. We will can also contact all utility companies (electricity, phone, gas, sewer/water) to identify any existing service near the proposed work site.
Excavation SA are tight access specialists and can arrange the best machines suitable to reach the proposed site and to help minimise disturbance to your property. We will also backfill and compact the trench if required.
For further information regarding our trenching and excavation services, call Nigel today on 0413 674 599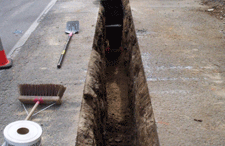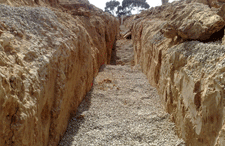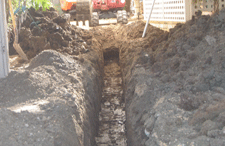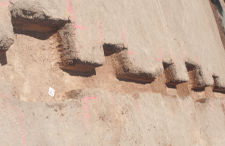 More Than Just Trenching
In addition to excavating and trenching, Excavation SA provides a range of solutions for your next project. For general information regarding what we offer, please visit our earthmoving services page or click below to view detail information regarding some of our more popular services.
Knowledgeable. Professional. Affordable
With over 15 years of experience in the civil construction industry, we have extensive knowledge in trenching and excavating solutions. Excavation SA was built with customer service in mind and offer our clients very affordable and competitive prices for our professional and quality work.
Learn More